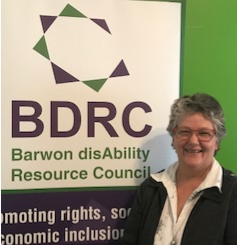 Glenda Dowling - Barwon Disability Resource Council
Glenda Dowling has over 18 years' experience at Barwon Disability Resource Council (BDRC) involved in access issues and was formerly involved in the event industry. Glenda has been a key team member of the then BDRC/Alcoa Access Awards and assisted development of a model for accessible event organisation. Glenda's access work has also included assistance for business and compilation of BDRC/City of Greater Geelong's Access Map and Mobility Directories.
---

Justin Dry - Vinomofo: Co-Founder and CEO
Justin Dry is an Entrepreneur, Investor and Co-Founder + CEO of Vinomofo, one of Australia's fastest-growing companies.
Launched in April 2011 from a little garage in Adelaide, Vinomofo now operates in Australia, NZ and Singapore where it has grown quickly to over $50m in annual revenue, 500,000 members, and a team of 100.
Winners of Fastest Growing Company at the Deloitte Tech Fast 50 Awards 2013, Online Business of the Year at the Australian Startup Awards 2014, Best Startup at the SmartCompany Startup Awards 2014, Online Retailer of the Year 2015 at the ORIA's, Telstra Business of the Year - Victorian Telstra Business Awards 2016, Hot Innovator 2017 at the Power Retail awards and Hottest Aussie Online Retailer and Ecommerce Company of the Year in 2018, Vinomofo is focused on expanding globally in 2018. Justin is a proven game-changer in the wine industry, taking on retail giants and challenging the 'Bowties and BS' attitudes of elitist wine snobs.
Awarded Spotify Young Entrepreneur of the Year at The Australian Startup Awards, Justin is a BRW Young Rich Lister and has been named one of the Top 50 People in E-Commerce 2016, 2017 and 2018 by Internet Retailing.
Justin is a regular on TV and radio shows which have included Squawk Box - CNBC Asia, Bloomberg Asia, Sky News Business, The Business - ABC, Channel 9 News, Insight – SBS, The Entrepreneurs Show – Sky Business and was one of the stars of the film 'The New Hustle' – a feature-length documentary that follows the personal journey of three of Australia's most successful startups.
Outside of his business endeavours, Justin is a self-confessed wine nerd and islomaniac.